How to Get Perfectly Full Lips With Fillers in lips and More Tips From a Top Dermatologist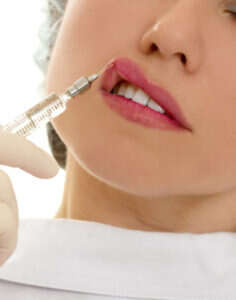 Voluptuous lips are the holy grail of beauty. Just look at Angelina Jolie. But how can you get the perfectly full lips with fillers without looking like you've had work done? For that, we've asked Dr. Rebecca Kleinerman, one our skilled injectors at Schweiger Dermatology. Dr. Kleinerman has had years of experience injecting fillers of all kind, including Botox and the brand new Voluma, into the faces of her beautiful patients. She's especially known for her ability to perform natural-looking lip augmentation procedures with fillers.
While looking ageless is way easier than it used to be, thanks to the plethora of hardworking and smart injectables on the market. The downside is that it can be very confusing for those just starting to venture into the world of fillers to understand the differences between each option. Before you go in for a consultation, it's crucial to educate yourself on the who, what and why of each filler.
Here, Dr. Kleinerman, lends her inside thoughts on Botox versus Dysport and how to get those perfectly yummy-looking lips with fillers.
How is Voluma different than other fillers?
Voluma is a hyaluronic acid (HA) filler that was developed specifically for mid-face augmentation. It contains a combination of high and low molecular weight particles that are efficiently cross-linked to allow for a "harder" quality and longer longevity than some of the other HA fillers.
What can Voluma do for the face?
We know that part of the aging process involves "deflation" of the mid-face, which can sometimes be seen as early as age 35. Furthermore, sometimes people who are very fit and like to participate in endurance exercise can end up burning their deep facial fat. Voluma is a filler that can be used to help revolumize these areas. It can be placed along the bone and in the deep tissue of the mid face to hold up the tissue more inferiorly, and produce a more rounded cheek.
Which fillers do you recommend for first timers?
I always start with hyaluronic acid fillers (such as Juvederm and Restylane) for first-time filler candidates. They have a good safety profile and can be reversed with the injection of an enzyme called hyaluronidase if necessary. My choice of HA filler depends on the areas that I am filling at the time; each HA filler has different properties
Botox or Dysport?
Botox and Dysport work equivalently in my hands. I can use them interchangeably.
You are known in our office as a master with lip injections! Do you have a special method you employ?
I always tend to focus on the central part of the lips first in women, because a little volume there goes a long way! I try not to overfill the lips either, because I always disliked the "shelf" look on the top lip that sometimes overfilling can achieve. And I try to maintain the 1/3 – 2/3 principle: the upper lip should represent 1/3 of the volume and the lower lip should represent 2/3 of the volume. Sometimes the aging process causes the upper cutaneous lip to elongate and the upper vermillion lip to curve inwards, so revolumizing the upper vermillion lip a little can achieve a more youthful appearance quite nicely.