The Top 10 Non-Surgical Cosmetic Dermatology Treatments
10 Things Only a Dermatology Provider Can do to Improve Your Appearance
The sheer amount of non-invasive treatments offered at a dermatologist's office can be downright dizzying. From lasers and lights to injectables and other seemingly space age technological devices, your dermatology provider has an array of cutting edge techniques at their disposal to make you look refreshed, relaxed, tighten, toned and years younger than the date on your driver's license. Here, a look at some of the amazing things you can do—some of them in a matter of minutes—to get on top your beauty game.
Get rid of bra bulge and muffin top with no knife
If you can squeeze it, your dermatologist can freeze it with CoolSculpting, a treatment that literally freezes your fat cells to death. CoolSculpting by Zeltiq uses a non-invasive hand piece to suction the area of the body being treated. During this time, the temperature of the treated area is reduced to a level at which fat cells begin to be broken down; this process is referred to as cryolipolysis. As fat cells are broken down, the body's own immune system flushes them away from the site. The result is a significant decrease in the fat cells in areas that no matter how much exercise you do, don't seem to disappear (knee fat, anyone?).
Plump lips (and then reverse them if you don't like)
Duckbill lips are so '90s. Thanks to the natural-looking results of dermal fillers containing hyaluronic acid, which is naturally found in our bodies, your lips can get a subtle dose of plumpness that doesn't scream fake. Luscious looking lips will never go out of style, but if you decide you're not a fan of your new pout, there's a way to kiss it good-bye. Your provider will inject hyaluronidase, which will degrade the hyaluronic acid and take your lips back to their natural state in minutes.
Give a knife-free eye lift
Tired looking and droopy eye lids are one of the first signs of aging. But undergoing a full-on eyelid lift is not in the plan for many people. If you're not so fond of your eyelids anymore, but don't want surgery, you can get a combo treatment of Thermage and Botox. Thermage uses radio frequency to deeply heat the collagen and tighten and lift skin, while Botox injected strategically around the brows can lift and lighten the entire eye area. "Botox keeps your eyes open and awake even if you're tired, while Thermage irons out the fine lines and wrinkles," says Laura Palmisano, PA-C. "Using Thermage in conjunction with Botox is an entire rejuvenation process and gives a more overall youthful eye."
Give you a non-surgical nose job
Think you can only fix that bump on your nose with a traditional rhinoplasty? Think again. A syringe of filler can help improve the look of your nose and even make it appear smaller. "Filler on the nose helps to even out small nasal bridge bumps and gives a straight profile, which will give the impression of a smaller nose," says Julie Zuckerman, PA-C.
Stimulate hair regrowth
While balding is typically seen as a man's issue, thinning hair is becoming more of an issue for women, too. Daily stress, which New Yorkers are all too familiar with, can contribute to hair loss. There's a new way to treat hair loss in the dermatologist's office that doesn't rely on time-consuming or painful methods. In Platelet-Rich Therapy (PRP), growth factors and other beneficial cells found in the patient's own blood are reintroduced back into the scalp via injection to promote hair regrowth where hair has been lost or is thinning. PRP is an autologous treatment, meaning that the blood cells used to stimulate hair regrowth are the patients' own and are not taken from a foreign substance. The preparation of the platelets is performed using a special centrifuge system that collects the growth factors and active proteins.
Remove your double chin
A saggy chin and neck area is probably one of the most loathed trouble spots. This area (medically referred to as submental fat) has been impossible to treat without surgery until now. Enter Kybella, the first non-surgical treatment that can treat your turkey neck. Kybella uses a non-animal/non-human substance called deoxycholic acid, which is naturally found in our bodies. When injected into the subcutaneous fat under our chins, deoxycholic acid destroys the fat cells…for good. In other words, once your double chin has disappeared after Kybella injections, it won't return. Genius.
Get rid of spider veins
Not so into your spider veins anymore? There's a treatment for that. Sclerotherapy is an effective method of removing those spider veins. During Sclerotherapy, a tiny needle is used to inject the vein with a chemical agent. The vein collapses, the body absorbs the now non-functioning vessel and it simply disappears. The typical treatment will have several tiny injections that last about 15 minutes.
Treat a gummy smile
Smiling should be an expression of happiness, but for those with too much gum showing, it's often an act full of self-consciousness —especially in this time of all selfies, all the time. Botox injections can decrease the amount of gums showing when you mug for the camera. Botox in this instance by paralyzing the hyperactive muscles in the upper lip, reducing its elevation and ultimately reducing your gummy smile in a matter of minutes.
Prevent skin cancer and make your complexion brighter in one shot
Photodynamic Therapy (PDT) improves the cosmetic appearance of sun damaged on the skin, while also killing any pre-cancerous cells. A light sensitizing medication is applied to the face and then blue light is shined onto the skin. "This allows any sun damaged skin and pre-cancerous cells to 'suck up' the medicine, while the normal cells do not," explains Dr. Scott Dunbar. "Then we shine LED lights at the face which activates the medicine, killing the damaged cells that absorbed the photosensitizer medication. This helps seek out not only visibly damaged cells, but also microscopically small pre-cancers that haven't even shown up on the skin yet."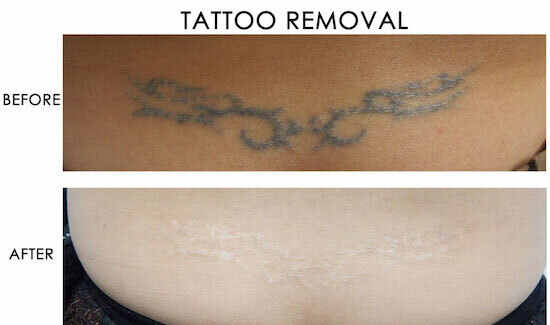 Get rid of an unwanted tattoo
Laser tattoo removal has evolved over the years. The new PicoSure laser from Cynosure is the most advanced and effective laser for tattoo removal yet. The PicoSure laser delivers amazing results in record time to tattoo removal patients. This breakthrough advancement in laser technology erases tattoos with fewer treatments and better results than ever before. It works by using ultra-short pulses of laser energy to safely destroy the ink particles and turn them into tiny, dust-like particles all without damaging the surrounding tissue. With the picosecond technology, these tiny particles are more readily absorbed and eliminated by the body. And what about the ouch factor? "There should be no pain! I always numb the patient first with injectable numbing," says Marianne Pistilli, PA-C.