Schweiger Dermatology Group – Elmer
420 Front Street
Elmer, NJ 08318

Surgery Center Location:

399 Front Street
Elmer, NJ 08318

Convenient same day appointments

Accepting new patients
Office Hours
Monday: 7:30 am – 7:00 pm
Tuesday: 8:00 am – 6:00 pm
Wednesday: 7:30 am – 7:00 pm
Thursday: 8:00 am – 7:00 pm
Friday: 8:00 am – 2:00 pm
Saturday 8:00 am – 2:00 pm (once/month)
Sunday: Closed
Surgery Center Hours:
Tuesday, Wednesday, Friday: 7:00 am - 4:00 pm
Monday, Thursday: Closed
Book an appointment with one of our dermatology providers
Services Offered at Schweiger Dermatology Group – Elmer
Elmer office patient reviews
Directions for
Schweiger Dermatology Group – ElmerOffice
location_on 420 Front Street,
Elmer, NJ 08318
Schweiger Dermatology Group provides medical and cosmetic dermatology services to patients of all ages at our Elmer location.
Schweiger Dermatology Group – Elmer is located at 420 Front Street just North of the Inspira Medical Center Elmer. Our office is in a brick and cream building.
Where to Park

Parking is available in the parking lot to the right of our building.

Landmarks

Schweiger Dermatology Group – Elmer is in Salem County, New Jersey. Our office is close to US-40 and the medical offices along Front Street. We are within half a mile of the Elmer IGA, Papa Luigi Restaurant, Elmer Diner, First National Bank of Elmer, Fulton Bank, Dollar General, and Savannah's Garden Florist.

Directions

From US-40 East, continue to Front Street and turn right. In half a mile, our office will be at 420 Front Street next to Premier Women's Health of South Jersey.

Areas Served

Schweiger Dermatology Group – Elmer serves the communities of Upper Pittsgrove, Franklinville, Pittsgrove, Alliance, Elk, Clayton, Upper Deerfield Township, and Woodstown.
Frequently Asked Questions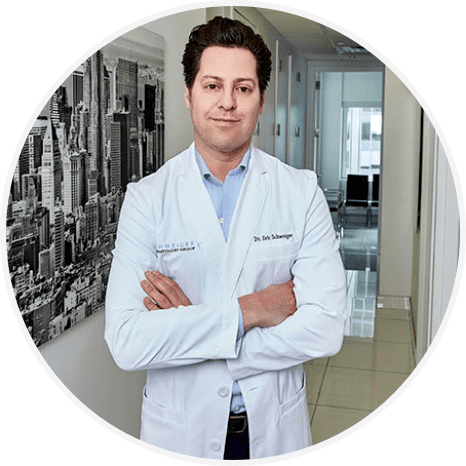 About Schweiger Dermatology Group
Schweiger Dermatology Group was founded to help make excellent dermatology care accessible throughout the Northeast. In 2010, Dr. Eric Schweiger started the practice with a single location in Midtown Manhattan. When he saw the need for high-quality dermatology care that did not require weeks or months of waiting to see a qualified provider, his vision of a multi-location practice was born.

Patient Resources