Laser and Light Treatments for Skin
Laser and light treatments for skin have progressed vastly over the last few decades. Patients now have multiple treatment options that can help them with a wide range of skin-related problems, including scars and tattoos, unwanted hair, psoriasis, acne, wrinkles, pigmentation, or melasma.
Laser Hair Removal (LHR)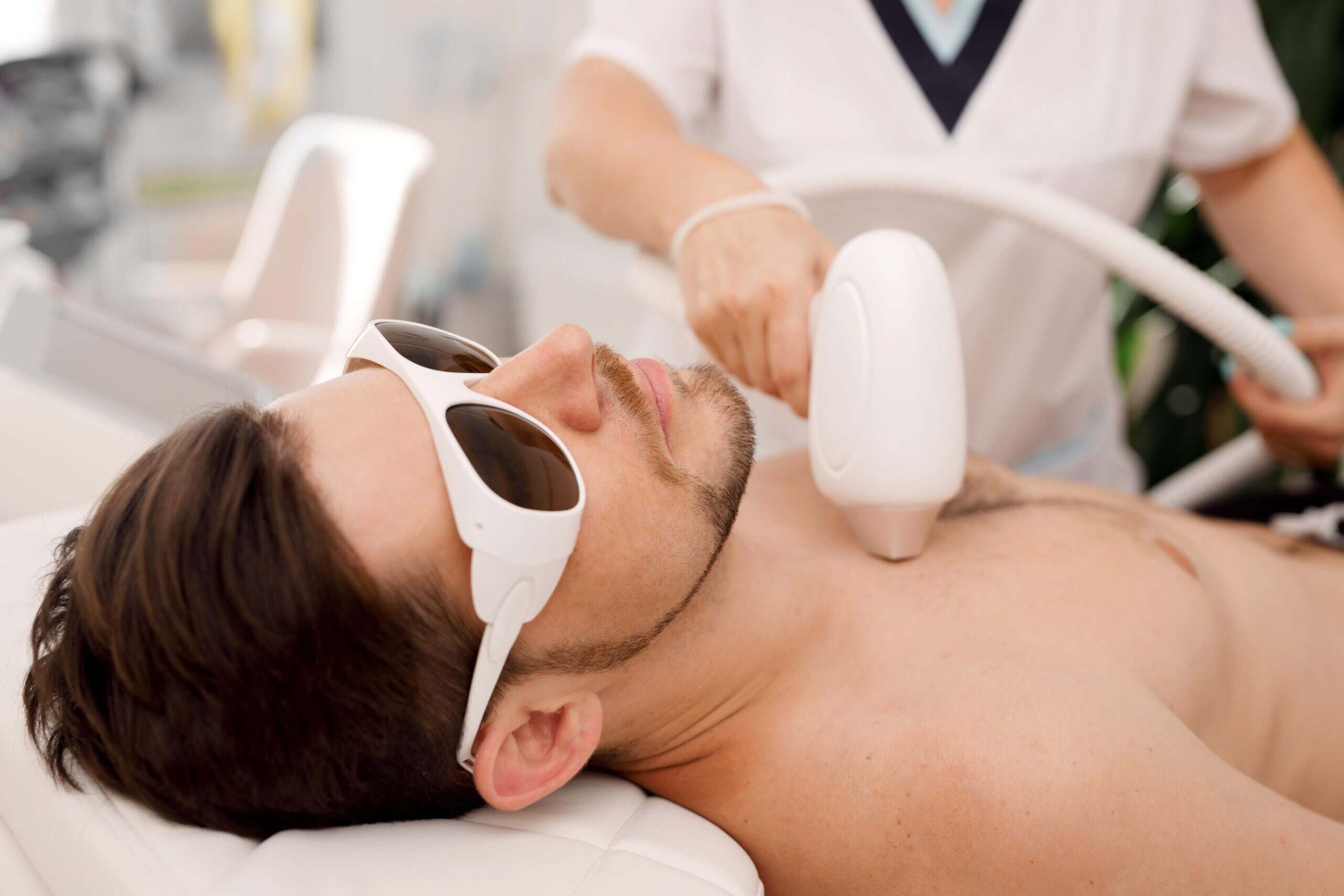 Removal of body hair using laser treatment is one of the most common uses of laser therapy these days. Laser hair removal (or LHR) uses pulses of laser light to destroy targeted hair follicles so that over time, hair regrowth will be less, and the regrown hair will be lighter and finer. LHR can be used to remove unwanted hair from any part of the body, including face, chest, leg, chin, back, arm, underarm, bikini line, and other areas. Since the laser light can be targeted very precisely, it impacts only the hair follicles and leaves the surrounding skin undamaged. LHR is a process that involves more than merely zapping the hair.
What to Expect with LHR
Multiple sessions are generally required to remove unwanted hair from the treated areas. Depending on the area to be treated, the procedure can take a few minutes to an hour. You will be advised on the length of the procedure during your consultation with the skincare specialist. After treatment, it is possible that your skin feels tender and has redness in the treated area(s). Do not expose the treated area to direct sunlight for best results, and use sunscreen when you step outdoors.
LHR generally works well for dark hair but does not work for gray or blond hair. This procedure is excellent for men and women who experience irritation from shaving and waxing or those who would just like silky smooth skin.
Laser Treatment for Early Signs of Aging
For younger patients who want to combat the early signs of aging, the Clear + Brilliant Laser is a gentle and effective way to address and prevent early signs of aging, such as fine lines, enlarged pores, and irregular skin tone and texture.
While Fraxel is typically considered the gold standard laser for skin resurfacing, many patients don't want to deal with the downtime associated with a more aggressive laser. This is why the non-ablative fractional laser Clear + Brilliant is a key tool for improving age spots and overall skin tone and texture while not having to take a week off from work or social activities.
Laser Treatment for Sunspots

Reveal a flawless complexion with one of our laser treatments for sunspots. While many at-home treatments claim to get rid of sunspots, in-office cosmetic procedures at the dermatologist are the best and most effective way to target and treat sunspots.
Laser and Light Treatment for Acne
Laser and light treatments for acne are very successful in helping patients achieve a beautiful complexion.
Isolaz® Laser Acne Treatment
The Isolaz® Laser acne treatment is an exciting and painless in-office acne treatment. Isolaz® is an FDA-cleared procedure used to clear out the pores and kill the P. acnes bacteria, leading to acne breakouts.
There are two components to the Isolaz® treatment, a gentle suction that cleans your pores and a light that simultaneously destroys the P. acnes bacteria. In a 2008 clinical study, researchers noted that acne continually improved for 3 months after a series of Isolaz® treatments.
Blue Light and Red Light Acne Treatment
Blue light and red light treatments may be the answer for some people who have tried other forms of acne therapies to no avail. This FDA-approved light treatment kills acne-causing bacteria and reduces inflammation. The red light also helps to speed up the healing process, thus leaving patients with a clearer and smoother complexion sooner.
This in-office treatment takes about 15 minutes.
Laser Treatments for Acne Scars
Laser treatments for acne scars are also very successful in helping patients achieve a scar-free complexion.
The gold standard treatment for pitted acne scars is laser rejuvenation therapy using the fractional CO2 laser. The fractional CO2 laser targets the deep layers of the skin to stimulate collagen renewal, which notably fills in depressed acne scars.
Focal Acne Scar Treatment (F.A.S.T.) for Pitted Acne Scars
F.A.S.T. utilizes the fractional C02 laser in a unique way to treat pitted acne scars. Recovery time is faster, and patients experience more significant results.
F.A.S.T. is Ideal for Any Type of Acne Scarring
F.A.S.T. is the ideal solution for any type of acne scarring. We want our patients to feel confident about their appearance, no longer plagued by the self-consciousness that accompanies acne scarring. Pitted areas have responded exceptionally well to the F.A.S.T. technique. Most patients experience 50-70% improvement.
Laser Treatment for Psoriasis
Patients with psoriasis are treated using a special narrow-band ultraviolet B light (UVB light) at 311 nanometers. This type of treatment is also called phototherapy. Research has shown that the narrow-band range of UV light is the most beneficial component of natural sunlight. Additionally, limiting the light spectrum reduces the risk of side effects. Narrow-band UVB light has a short wavelength, which only reaches the top layer of skin. It is effective for psoriasis treatment because it reduces inflammation and slows down the production of skin cells, thus reducing plaque formation caused by psoriasis.
What to Expect with Narrow-Band UVB Light Therapy
Before treatment length and intensity are determined, your skincare specialist will assess the condition of your skin, any other skin conditions (like skin cancer) that you might have had, and any medications you might be taking that make your skin sensitive to light.
UVB light treatment is generally spread out over multiple sessions. Each session is usually very short – a few seconds or minutes long – and the amount of UVB light the patient is exposed to is carefully monitored. Depending on the area of the body to be treated, phototherapy may be done on your entire body or specific parts of the body – hand, scalp, etc. The treatment may last a few months with multiple sessions per week, and you should begin to see improvements after 2 to 4 weeks.
People with known photosensitivity issues should ideally avoid this form of light therapy.
Laser Treatment for Skin Rejuvenation
Laser skin resurfacing involves using a laser to improve the appearance of skin or treat minor facial flaws by injuring the skin in a controlled manner. This controlled injury stimulates the skin to repair itself, causing new collagen formation and improved pigmentation. The new skin that forms during healing gives the skin a tighter, brighter, and younger-looking surface.
Pixel Resurfacing Laser for Facial Rejuvenation
The Pixel resurfacing laser or fractionated erbium ablative laser is used in cosmetic dermatology for facial rejuvenation and treating skin disorders. It can treat skin with sun damage, fine lines, resistant pigmentation, acne scars, roughened textures, and enlarged pores. Pixel resurfacing is typically used as an anti-aging procedure to treat areas of the face, neck, chest, arms, and hands. It is considered a very successful method to even out skin tone by lightening scars and softening wrinkles.
The fractionated ablative laser breaks up its laser beam into a grid of tiny beams that create microscopic injuries to the epidermis (top layer of skin) to remove surface skin damage. It treats photo-aging, fine lines, poor texture, and acne scarring. The ablative laser is sometimes called a wounding laser that removes the thin outer layer of skin and heats the underlying skin, stimulating new collagen fibers. Therefore, ''resurfacing" the skin. Additionally, since only a "fraction" of the skin is treated at one time, healing is more rapid, and downtime is less. You will see healthier, firmer, smoother skin with minimal downtime.
What to Expect with Pixel Resurfacing Laser
Your skincare specialist will ask you for your medical history during your consultation to confirm that you are a candidate for Pixel resurfacing. The procedure is not recommended for pregnant or breastfeeding women or those with connective tissue disease, autoimmune disorders, pacemakers, or prone to keloids. Topical anesthesia is not generally used for Pixel resurfacing, and recovery time is minimal. Like other treatments, exposure to direct sunlight and sunscreen protection is advised after Pixel resurfacing.
While some patients may see visible results with just a single session of Pixel resurfacing, most patients need a few sessions to see optimal results.
The treated area appears smoother and tighter up to 6 months following the treatment as the skin heals and regrows.
Omnilux LED Light Therapy for Skin Rejuvenation
Omnilux LED light therapy is a non-invasive and painless method for skin rejuvenation for all skin types. It uses pulses of light-emitting diodes (LED) to refresh and rejuvenate skin. Omnilux delivers a natural method of light-only skin rejuvenation, which uses the body's biological processes to help counteract the effects of aging.
Omnilux therapy is like a facial that renews and refreshes the skin on the face and neck areas. It uses light in different wavelengths to treat different types of skin conditions. Red light and blue light are different options to improve your skin quality and appearance. Red light is used to reduce potential bruising after laser and filler procedures. Additionally, it focuses on anti-aging and skin rejuvenation. Red light therapy may also be used to treat sun-damaged skin. On the other hand, blue light can treat acne and bacteria that cause acne from mild to severe cases. It can also treat precancerous lesions on the face, scalp, and neck.
What to Expect with Omnilux LED Light Therapy
The Omnilux LED light therapy is a very relaxing process. After cleansing your skin, the LED light focuses on the skin area to be treated. The equipment is flexible and can be used while lying down, sitting, or standing. Lying down during treatment is the most comfortable, of course, and it also gives you a chance to take a break from your busy day. Many people experience brighter-looking skin immediately after treatment. Still, we recommend multiple sessions for the treatment to work wonders. There is no downtime with Omnilux therapy. After treatment, you can apply your makeup and be on your way immediately. Results from the treatment continue to enhance over the next few weeks. Usually, your skincare specialist will recommend a maintenance schedule for your skin after achieving the desired results.
Laser Tattoo Removal
Thanks to significant advancements in laser technology, laser tattoo removal is more effective than ever. At Schweiger Dermatology Group, we've removed and lightened numerous tattoos resulting in incredibly positive results and much happier clients.
Typically, laser tattoo removal takes about twelve sessions to remove the ink entirely. It begins with breaking up the pigments associated with your tattoo.
High-intensity laser beams are passed in short pulses to the second layer of skin where the tattoo pigment resides. The laser beam is absorbed by the pigment colors in the tattoo (without impacting the skin) to break down the ink into smaller cells. The ink is then broken down over time by the white blood cells within your body and flushed out of your system through the liver. Since black ink absorbs all laser wavelengths, it is the easiest to remove. Tattoos with different colors will need laser beams at different wavelengths to remove them.
Laser Treatments for Fine Lines and Wrinkles
Laser treatments for fine lines and wrinkles are very effective and non-invasive options for skin rejuvenation.
Our dermatology providers at Schweiger Dermatology Group use several lasers to treat fine lines and wrinkles. Laser treatments regenerate collagen growth and kickstart the body's natural healing process to iron out any wrinkles and fine lines on the face.
Since these lasers generate heat, a topical anesthetic is applied to the skin area before treatment.
Laser Treatment for Removal of Veins, Blood Vessels, and Redness
Redness on the skin can be a cosmetic nuisance. If you have redness associated with veins, blood vessels, rosacea, or the signs of aging on the skin, specialized lasers can help treat these conditions.
At Schweiger Dermatology Group, we have several lasers that target redness, including the IPL and KTP Lasers and Laser Genesis. After carefully assessing your skin, your dermatologist will determine the best method for removing redness, veins, or blood vessels on your skin.
IPL is effective in treating sun-damaged skin and issues related to discoloration. IPL therapy works by emitting short pulses of intense light, targeting pigmented cells to diminish undesirable skin issues.
KTP gently removes the blood vessels just below the skin's surface that ultimately cause the redness associated with scarring or rosacea.
Laser Genesis effectively addresses chronic conditions such as rosacea and helps diminish the effects of acne scarring and discoloration. Treatment is painless, lasting under half an hour.
---
Laser and Light Treatments for Skin in NY, NJ, PA, CT and FL
Schweiger Dermatology Group offers several laser and light treatments for skin, giving patients options to achieve a more youthful look, making skin smoother and even-toned, and creating a firmer texture. Call Schweiger Dermatology Group today at (844) DERM-DOC to schedule a consultation. Your skincare specialist will advise you on what type of laser or light-based treatment is best for your skin.
To find a location near you, check out our location pages. We look forward to working together to find the best treatment for your skin!