Intense Pulsed Light for Acne Scars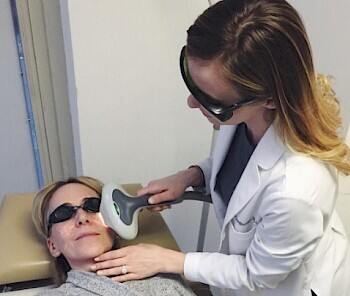 Understanding IPL
Now there's a new alternative to treating acne scarring: Intense Pulsed Light (IPL), which involves a series of short pulses of light. This light then targets the affected skin cells and thereby lessens the appearance of acne scars. It truly is a dermatological breakthrough, and one that our NYC office performs on patients regularly. Not only does IPL help our New York patients in terms of the discoloration associated with acne, but overall, the complexion has a refreshed look following treatment.

Intense Pulsed Light: The New Acne Scar Treatment
When you're plagued by acne scarring, you often feel less confident. You may notice red and/or brown marks on your skin, and this can certainly diminish how you feel about your complexion. When treated using IPL at our NYC dermatology office, you will notice a difference. Sometimes referred to as a photofacial, IPL is non-invasive and gentle on your skin. The look of your acne scarring will be significantly reduced.
IPL Treatments: The Process
Our New York dermatologists and providers are well-trained in IPL technology. First, they will apply a gel. This is then followed by the actual IPL treatment utilizing intense pulses of light. The visit generally lasts about fifteen minutes, and most patients require anywhere from 3-5 sessions. Often, we will treat patients using IPL in conjunction with other types of acne scar protocols.
Are IPL Treatments Used for Anything Else?
IPL treatments have also been successful as far as treating the actual acne outbreaks. We've had a number of NYC patients come in in order to address their acne related concerns. The IPL light can kill the bacteria that causes acne to begin with. We've also used photofacials to address such issues as sun spots and rosacea. The IPL treatments have become incredibly popular because they are so gentle while still highly effective in terms of smoothing out the overall skin tone.
After an IPL Treatment
There may be some slight redness following your IPL treatment; however, there really is no downtime at all. And as the treatment only lasts fifteen minutes, many even opt to have it done on their lunch break and return immediately to their normal activities afterward. We always recommend sunscreen after treatment.