Schweiger Dermatology Group – Livingston 201
201 S. Livingston Ave, Suite 1F
Livingston, NJ 07039

Convenient same day appointments

Accepting new patients
Office Hours
Monday, Tuesday, Thursday: 8:00 am – 4:00 pm
Wednesday, Friday: 8:00 am – 1:00 pm
Saturday: Closed
Book an appointment with one of our dermatology providers
Services Offered at Schweiger Dermatology Group – Livingston 201
Livingston 201 office patient reviews
Directions for
Schweiger Dermatology Group – Livingston 201Office
location_on 201 S. Livingston Ave, Suite 1F
Livingston, NJ 07039
Schweiger Dermatology Group provides medical and cosmetic dermatology services to patients of all ages at our Livingston 201 location.
Schweiger Dermatology Group – Livingston 201 is located at 201 S. Livingston Ave (NJ 649) near the corner of E. Cedar Street. Our office is in Suite 1F. We are in a 2-story red building next to TD Bank.
Where to Park

Parking is available around our building off of S. Livingston Ave.

Landmarks

Schweiger Dermatology Group – Lexington 201 is north of the Livingston Public Library, the Livingston Gazebo, and near the high school. Our building is next to TD Bank and across the street from Well Bred Pet Store, CVS, and less than half a mile from M&T Bank, Sunoco, Kings Food Market, 7-Eleven, Santander Bank, Grace Luthern Church, West Essex YMCA, the Historic Force Homestead, Starbucks, Dunkin' Donuts, Walgreens, Philly Pretzel Factory, Harrison Elementary, Aldi, Nordstrom Rack, Cedar Hill Country Club, the Livingston Mall, and Nana's Deli.

Directions

From I-280 (Essex Freeway), take exit 5A for County Road 527 S toward Livingston Ave. Our office is just under 2 miles down on the left.

Areas Served

Schweiger Dermatology Group – Livingston 201 serves central and west Essex County in New Jersey and the surrounding communities of Short Hills, South Orange, Roseland, Essex Falls, City of Orange, Ivy Hill, Seton Hall University, Maplewood, and Vailsburg.
Frequently Asked Questions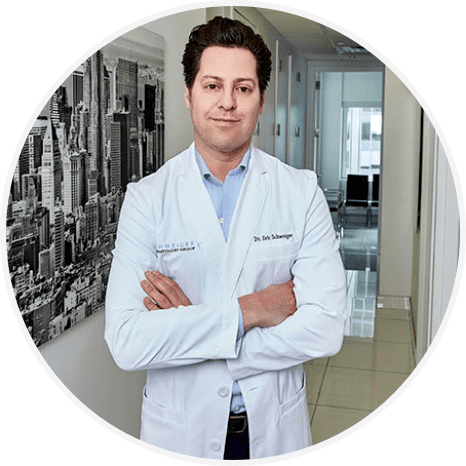 About Schweiger Dermatology Group
Schweiger Dermatology Group was founded to help make excellent dermatology care accessible throughout the Northeast. In 2010, Dr. Eric Schweiger started the practice with a single location in Midtown Manhattan. When he saw the need for high-quality dermatology care that did not require weeks or months of waiting to see a qualified provider, his vision of a multi-location practice was born.

Patient Resources