Bernstein Medical – Center for Hair Restoration
110 East 55th Street, Floor 11
New York, New York 10022

Convenient same day appointments

Accepting new patients
Office Hours
Monday – Friday: 8:30 am – 4:00 pm
Saturday and Sunday: Closed
Click to book appointment with one of the country's top hair transplant surgeons
Bernstein Medical office patient reviews
Directions for
Bernstein Medical – Center for Hair RestorationOffice
location_on 110 East 55th Street, Floor 11
New York, New York 10022
The Bernstein Medical facility is equipped with state-of-the-art diagnostic and surgical equipment specifically tailored for our pioneering surgical hair restoration procedures. Our office has been designed for your comfort, respect for your privacy, and to ensure the delivery of optimal care.
Physical Locations

Bernstein Medical – Center for Hair Restoration is located in the Park 55 building at 110 E. 55th Street between Park Ave and Lexington Ave in Midtown East in Manhattan, New York City. Dr. Robert M. Bernstein and Dr. Christine M. Shaver are both on the 11th floor of the building.

Where to Park

Paid parking is located around the block at 140 E. 56th Street at Lexington Ave. Paid street parking may also be available.

Landmarks

Bernstein Medical – Center for Hair Restoration is minutes away from New York City's famous Midtown Manhattan landmarks. Our office is across the street from the Concorde Hotel and on the same block as the famous Central Synagogue and a block away from St. Peter's Church and the Islamic Society of Mid Manhattan. Bumble and Bumble, Chipotle, Starbucks, Bobby Van's Steakhouse, Hotel Elysee, Sephora, Vivienne Westwood New York, The Korean Consulate, CVS, The St. Regis Hotel, Blue Bottle Coffee, and Indochino are within three blocks from our office. The 5th Ave and Madison Ave shopping districts are steps from our location and Rockefeller Center and St. Patrick's Catherdral are six blocks away. The Times Square district, the Museum of Modern Art (MoMA) and Broadway theaters are a short 10 minutes or less walk to our door.

Directions

The NYC MTA subway system makes our office easily reachable by train. Take the 6 train to 51st Street station or the E or M train at Lexington Ave/53rd Street or the N, R, or W trains to Lexington Ave/59th Street station. Our office is accessible to both Grand Central Station (and MetroNorth trains to Westchester) and Pennsylvania Station (and New Jersey Transit and the Long Island Railroad [LIRR]). Dr. Robert M. Bernstein and Dr. Christine M. Shaver are on the 11th floor of the building.

Areas Served

Bernstein Medical – Center for Hair Restoration services Manhattan, Brooklyn, Queens, and much of New Jersey. Street transportation and the subway network make the office accessible to most areas of Metro New York City, including Lenox Hill, The Upper East Side, Kips Bay, Peter Cooper Village, Midtown Manhattan, Central Park, 5th Ave, Park Ave, Murray Hill, Sutton Place, Yorkville, Astoria, Long Island City, Queens, Brooklyn, and The Bronx.

Other Info

We are accredited by the Accreditation Association for Ambulatory Health Care (AAAHC/Accreditation Association). The accreditation process demands proof of a high level of commitment to rigorous standards in patient care, quality improvement, record keeping, patient and staff safety and security in providing optimum service to our patients.

In our effort to be environmentally responsible, Bernstein Medical is now paperless. In addition to being eco-friendly, this gives our staff and patients easy access to medical information, enables us to better track our patients' progress, and saves time and space in our office. All electronic patient records are kept in a secure digital database.

For more information, or to schedule a consultation please visit the Bernstein Medical – Center for Hair Restoration website.
Frequently Asked Questions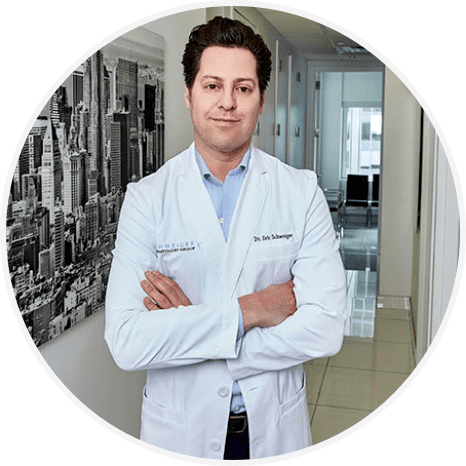 About Schweiger Dermatology Group
Schweiger Dermatology Group was founded to help make excellent dermatology care accessible throughout the Northeast. In 2010, Dr. Eric Schweiger started the practice with a single location in Midtown Manhattan. When he saw the need for high-quality dermatology care that did not require weeks or months of waiting to see a qualified provider, his vision of a multi-location practice was born.

Patient Resources