Non-Surgical Cosmetic Solutions: How Fillers Work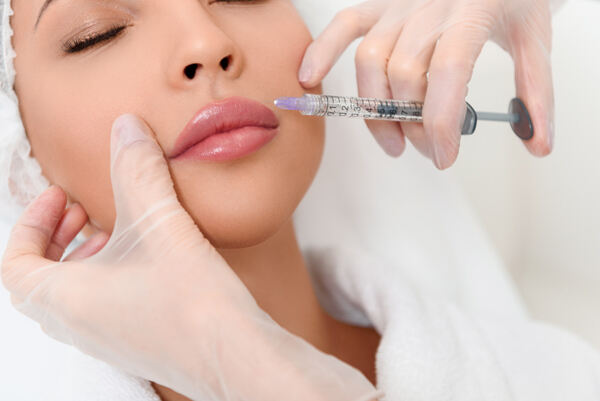 Ageless Skin: Cosmetic Dermatology Solutions
When we look at our face in the mirror, we often see only those things about which we are self conscious: frown lines, laugh lines, crow's feet, furrows in our brow. And this consequently prevents us from feeling like our best selves. Aging is a part of life. Wrinkles crop up, skin gets looser and sags, our complexion loses that firmness and vibrancy of youth. From Botox to dermal fillers, people consult with cosmetic dermatologists to try and figure out a way to slow down the effects of aging and help return their skin to what it once was.
Fillers for Treating Lines
Dermal fillers are a great way to deliver ageless skin, especially around the mouth, in order to combat those dreaded laugh lines. Patients also turn to fillers when getting lip injections, in order to achieve a poutier more voluptuous lip look. The mouth is one area that many are sensitive about, so dermal fillers can be a great option for helping to restore a youthfulness and bring in greater volume. With dermal fillers, such as Juvederm and Restylane, those deep folds and creases disappear thanks to the product being safely injected in the soft tissue beneath the skin. Overall, patients notice a softer, smoother and more appealing complexion.
Types of Fillers for Laugh Lines
The best dermatologists begin by doing a thorough consult with a prospective patient. The exact product used and the treatment is going to depend on skin type, lifestyle, health history, and desired results. This is why it is so important to feel comfortable with a dermatologist and to choose one that has experience with this process and consequently knows exactly what they are doing. You want to do your homework, talk to those who've had the procedure done and make sure you are going with a board certified dermatologist or licensed dermatology provider who takes the time to explain exactly what is entailed in the procedure.
Fillers for Laugh Lines
Generally, when addressing laugh lines, the type of dermal filler used can vary. Juvederm and Restylane both work wonderfully in terms of smoothing out wrinkles and effecting a more volumized look in this particular area. These types of Hyaluronic Acid (HA) fillers are composed of naturally derived substances already found in your body. HA based fillers essentially give you a non surgical facelift from the inside out.
Types of Fillers for Lip Injections
When it comes to the lips, dermal fillers are becoming an increasingly popular option for helping women with thinner lips get a much fuller and plump pout. Juvederm and Restylane are among the most common choices for lip injections. There are other options for lip filler as well, the exact filler type will be determined by your cosmetic dermatology provider. Here, some fast facts about lip injections:
The procedure is very quick and can be performed in the office, during your lunch hour.
To help ease any pain, a numbing cream can be applied to the lips prior to the injection.
There is virtually zero downtime with this type of treatment and the results can be noticed almost immediately.
Women come in dissatisfied with their mouth area, whether wrinkles and fine lines are obscuring their otherwise gorgeous smile, or whether they want those larger volume lips, and they leave feeling more confident and happier with their appearance.
The safety and versatility of the dermal fillers available today is truly opening up a whole new world for cosmetic dermatology patients.
Filler Side Effects
Any side effects from dermal fillers are minimal. Some redness or slight bruising may be apparent at the injection sites, but then dissipates quickly. The end result however, lasts for up to six months. Generally patients looking for fillers for around the mouth, can expect the overall effect to last for about six months to a year.
A Happier You!
Wanting to make a change and undergo treatment to give your face that more youthful look can give you a new lease on life. The mouth area is one of the main focuses when it comes to dermal fillers and the benefits they can provide. At Schweiger Dermatology Group, we're happy to consult with you and provide you with options for reducing the look of laugh lines or making your lips look fuller and poutier with the help of fillers. We take the time to understand the needs and concerns of each and every one of our patients. No two cases are alike and therefore no two treatments are alike!
Call 844-DERM-DOC or Schedule an appointment.
Schweiger Dermatology Group is the leading provider of dermatology services in New York and New Jersey specializing in cosmetic and medical dermatology. With over 90 offices and more than 300 healthcare providers, our group of top dermatologists in NYC and the surrounding metro area are highly sought after for their expertise in treatments of acne, Botox, fillers, laser treatments, skin cancer, eczema, psoriasis and rosacea.