Schweiger Dermatology Group – Nutley
88 Park Ave, Suite 2-A
Nutley, NJ 07110

Convenient same day appointments

Accepting new patients
Office Hours
Monday: 6:00 am – 1:00 pm
Tuesday: 6:00 am – 7:00 pm
Wednesday: 6:00 am – 1:00 pm
(Some Wednesdays open until 7pm)
Thursday: 6:00 am – 7:00 pm
Friday: 6:00 am – 1:00 pm
Saturday, Sunday: Closed
Book an appointment with one of our dermatology providers
Services Offered at Schweiger Dermatology Group – Nutley
Nutley office patient reviews
Directions for
Schweiger Dermatology Group – NutleyOffice
location_on 88 Park Ave, Suite 2-A
Nutley, NJ 07110
Schweiger Dermatology Group provides medical and cosmetic dermatology services to patients of all ages at our Nutley location.
Schweiger Dermatology Group – Nutley is located at 88 Park Ave near Humbert Street. Our office is next to Glotzbach Memorial Park soccer and baseball fields. We are in a white, modern, 2-story building in Suite 2-A.
Where to Park

Parking is available in the parking lot to the right of our building.

Landmarks

Schweiger Dermatology Group – Nutley is in eastern Essex County, New Jersey near the Passaic River and NJ-21 and NJ-3. Our office is within half a mile of Nutley Auto Kia, Bagel Plus, Stephanie's BBQ & Steak House, Benjamin Moore, Woodcroft Steakhouse & Seafood, Da Vinci Bakery, Dunkin' Donuts, Queen Margherita Trattoria, Valley Bank, Exxon, Mickey's Bar & Grill, Three County Volkswagen, TJ Maxx, GameStop, Walgreens, ShopRite, HomeGoods, Lee's Hawaiian Islander, Bergen County Rowing Center, and Eastwick College – Nutley.

Directions

From NJ-21 South, take exit 8 towards River Road. Turn left onto River Rd then right onto Park Ave. Our office is past the park on the right hand side of the road. We are easily accessed by the Garden State Parkway. The NJ Transit train lines of Main/Bergen County and Port Jervis Lines stop at nearby Lyndhurst station.

Areas Served

Schweiger Dermatology Group – Nutley serves Essex County New Jersey and the surrounding communities of Avondale, Belleville, North Arlington, Lyndhurst, Bloomfield, Silver Lake, Forest Hill, Woodside Broadway, Glen Ridge, Brookdale, and Clifton.
Frequently Asked Questions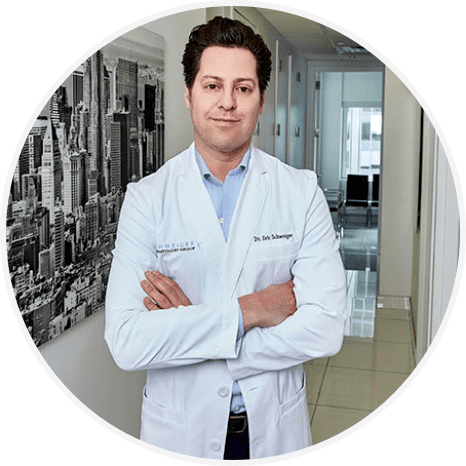 About Schweiger Dermatology Group
Schweiger Dermatology Group was founded to help make excellent dermatology care accessible throughout the Northeast. In 2010, Dr. Eric Schweiger started the practice with a single location in Midtown Manhattan. When he saw the need for high-quality dermatology care that did not require weeks or months of waiting to see a qualified provider, his vision of a multi-location practice was born.

Patient Resources