Schweiger Dermatology Group – Endwell
333 Hooper Road
Endwell, NY 13760

Convenient same day appointments

Accepting new patients
Office Hours
Monday – Friday: 7:30 am – 4:00 pm
Saturday and Sunday: Closed
Book an appointment with one of our dermatology providers
Services Offered at Schweiger Dermatology Group – Endwell
Endwell office patient reviews
Directions for
Schweiger Dermatology Group – EndwellOffice
location_on 333 Hooper Road,
Endwell, NY 13760
Schweiger Dermatology Group provides medical and cosmetic dermatology services to patients of all ages at our Endwell location.
Schweiger Dermatology Group – Endwell is located at 333 Hooper Road at the end of Rath Ave in Endwell and Endicott, New York area. Our office is a 2-story white building below Hooper Road near The Galley Tavern & Grill.
Where to Park

Parking is available in the parking lot in front of our building.

Landmarks

Schweiger Dermatology Group – Endwell is just North of the Susquehanna River and the Southern Tier Expressway in Endicott and Endwell communities. Our office is within one mile of the Binghampton Country Club, Dunkin' Donuts, Homer Brink Elementary School, Broadway Diner, Endwell United Methodist Church, Rite Aid, McDonald's, The Union Diner, Bridal Emporium, Lupo's Char-Pit, Gault Chevrolet, and M&T Bank.

Directions

From the Southern Tier Expressway (NY-17E), take exit 67N to NY-26 over the Susquehanna River towards Endicott. Take the exit and then a right for NY-17C towards Endwell. After 1.5 miles, take the Hooper Road exit. On Hooper Road, our office will be on the right in half a mile. The 35 bus on the Broome County Transit system stops in front of our office.

Areas Served

Schweiger Dermatology Group – Endwell serves Broome County, New York and the surrounding communities of Westover, Johnson City, Carpathian Hill, Binghamton, Union Center, Maine, West Chenango, Hinmans Corner, Glen Castle, Port Dickinson, Crest View Heights, Campville, and Vestal.
Frequently Asked Questions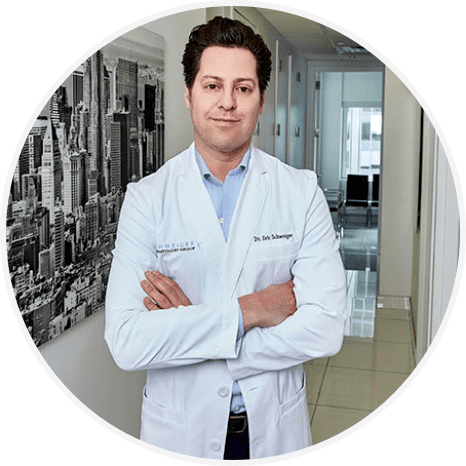 About Schweiger Dermatology Group
Schweiger Dermatology Group was founded to help make excellent dermatology care accessible throughout the Northeast. In 2010, Dr. Eric Schweiger started the practice with a single location in Midtown Manhattan. When he saw the need for high-quality dermatology care that did not require weeks or months of waiting to see a qualified provider, his vision of a multi-location practice was born.

Patient Resources