Schweiger Dermatology Group – Hoboken
2 Hudson Place, Suite 101
Hoboken, NJ 07030

Convenient same day appointments

Accepting new patients
Office Hours
Monday, Thursday: 7:00 am – 6:30 pm
Tuesday: 7:00 am – 6:00 pm
Wednesday: 7:00 am – 7:30 pm
Friday: 7:00 am – 3:00 pm
3rd & 4th Saturday: 7:00 am – 1:00 pm
Book an appointment with one of our dermatology providers
Services Offered at Schweiger Dermatology Group – Hoboken
Hoboken office patient reviews
Directions for
Schweiger Dermatology Group – HobokenOffice
location_on 2 Hudson Place, Suite 101
Hoboken, NJ 07030
Schweiger Dermatology Group provides medical and cosmetic dermatology services to patients of all ages at our Hoboken location.
Schweiger Dermatology Group – Hoboken is located in the Baker Waterfront Plaza office building at the end of Hudson Place. The building is a tall, modern brick building located directly across from the Hoboken Terminal/NJ Transit and the bus station.
Where to Park

Limited parking is available on the street on Hudson Place in front of the office. Paid parking is one block away at the intersection of Hudson Place and Hudson Street. Our office is very accessible by the PATH train from Manhattan and New Jersey at the Hoboken station. Our office is across the street from the station.

Landmarks

Schweiger Dermatology Group – Hoboken is located across the street from the Hoboken PATH and NJ Transit terminal along the Hoboken Waterfront in Baker Waterfront Plaza. Our office is within five blocks of Starbucks, Ernst & Young, Walgreens, Citibank, CVS, Insomnia Cookies, the US Post Office, TD Bank, and down the street from The Texas Arizona Restaurant. We are three blocks away from the famous Washington Street shopping corridor.

Directions

The Schweiger Dermatology Group – Hoboken office is very accessible by mass transit. The Hoboken PATH train, Hudson-Bergen Light Rail, most New Jersey Transit train lines, and the 85, 87, 89, 122, and the 126 buses all exit across the street from our office. From Manhattan, the PATH trains from World Trade Center, 33rd St, 23rd St, 14th St, 9th St, and Christopher all lead to the Hoboken Terminal building which is across the street. Hudson Place leads to the water and has cobblestones. Driving from Manhattan, take the Holland Tunnel and exit at Marin Blvd.

Areas Served

Schweiger Dermatology Group – Hoboken serves the areas of Midtown, Downtown, and Uptown Hoboken, Weehawken, Union City, the Journal Square, Newport Center, and Grove Street areas of Jersey City, Greenville, West New York, Guttenberg, Staten Island, Newark, Bayonne, the Manhattan neighborhoods of The West Village, Chelsea, and Midtown, and Essex, Union, Hudson, Bergen and Passaic Counties.
Frequently Asked Questions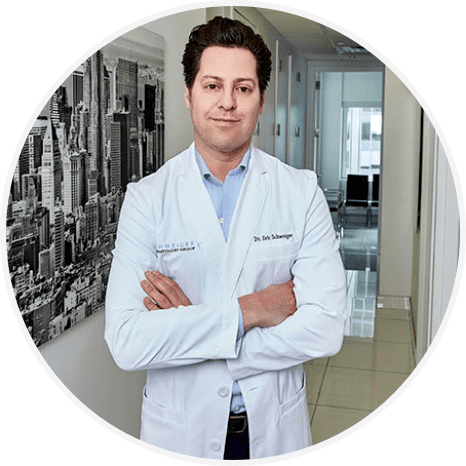 About Schweiger Dermatology Group
Schweiger Dermatology Group was founded to help make excellent dermatology care accessible throughout the Northeast. In 2010, Dr. Eric Schweiger started the practice with a single location in Midtown Manhattan. When he saw the need for high-quality dermatology care that did not require weeks or months of waiting to see a qualified provider, his vision of a multi-location practice was born.

Patient Resources