Schweiger Dermatology Group – Upper West Side
137 W 96th Street
New York, NY 10025

Convenient same day appointments

Accepting new patients
Office Hours
Monday: 8:00 am – 6:30 pm
Tuesday: Closed
Wednesday: 9:30 am – 4:00 pm
Thursday: 9:30 am – 4:00 pm
Friday: 8:00 am – 2:00 pm
Saturday, Sunday: Closed
Book an appointment with one of our dermatology providers
Services Offered at Schweiger Dermatology Group – Upper West Side
Upper West Side office patient reviews
Directions for
Schweiger Dermatology Group – Upper West SideOffice
location_on 137 W 96th Street,
New York, NY 10025
Schweiger Dermatology Group provides medical and cosmetic dermatology services to patients of all ages at our Upper West Side location.
Schweiger Dermatology Group – Upper West Side is at 137 W. 96th Street, between Amsterdam Ave and Columbus Ave. Our office is on the ground floor of a 14-story residential brick building on the North side of W. 96th Street. We are two doors down from the CVS on the corner of Amsterdam Ave.
Where to Park

Paid parking is available in a parking garage around the corner on W. 97th between Columbus Ave and Amsterdam Ave.

Landmarks

Schwieger Dermatology Group – Upper West Side is one block West of Central Park and easily accessible to the West side of Manhattan, The Bronx, and Westchester County. Our office is within 5 blocks of Home Goods, Starbucks, Paris Baguette, Krispy Kreme, The Manhttan Diner, Petco, Trader Joe's, CVS, Whole Foods Market, the Alfred E. Smith PS 163 school, TJ Maxx, Bank of America, Chipotle, Target, Orangetheory Fitness, Housing Works, the Central Park Tennis Center, and beautiful Central Park West. The Jacqueline Kennedy Onassis Reservoir is a short walk from our door in Central Park. The American Museum of Natural History is a 15 minute walk away.

Directions

Public transportation with the MTA subway system makes our location very accessible. The 96th Street Station on the 1 line is one block away from our office. The C and B lines also stop along Central Park West at the 96th Street station as well. The M96 and M106 MTA bus lines stop on our corner as well. From the Holland Tunnel from New Jersey, take the exit towards 42nd Street/Uptown. Turn right onto 12th Ave/NY-9A for 2 miles and turn right onto W. 96th Street. From the East side of Manhattan, take the 97th Street Transverse through Central Park.

Areas Served

Schweiger Dermatology Group – Upper West Side serves the West side of Upper Mahnattan including the neighborhoods of Bloomingdale, Cathedral Parkway, Columbia University, Morningside Heights, Manhattanville, West Harlem, Hamilton Heights, Sugar Hill, Washington Heights, Hudson Heights, Little Dominican Republic, Fort George, Inwood, Marble Hill, Spuyten Duyvil, Kingsbridge, Fieldston, RIverdale, Yankee Stadium, Bronx Concourse, Mt. Eden, Morris Heights, Mt. Hope, Fordham University, Lincoln Square, Lincoln Center, Riverside Drive, West End Ave, Amsterdam Ave, Broadway, and Columbus Ave.
Frequently Asked Questions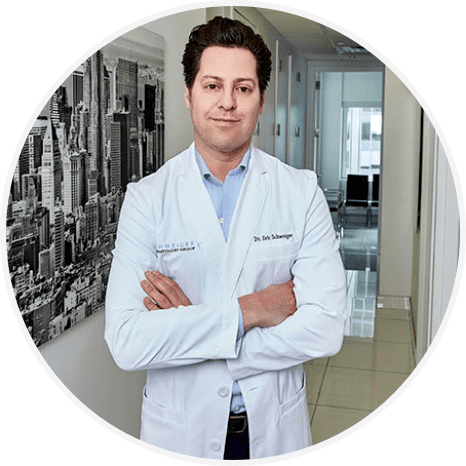 About Schweiger Dermatology Group
Schweiger Dermatology Group was founded to help make excellent dermatology care accessible throughout the Northeast. In 2010, Dr. Eric Schweiger started the practice with a single location in Midtown Manhattan. When he saw the need for high-quality dermatology care that did not require weeks or months of waiting to see a qualified provider, his vision of a multi-location practice was born.

Patient Resources