Schweiger Dermatology Group – Grassy Sprain
35 E Grassy Sprain Rd., Suite #507
Yonkers, NY 10710

Convenient same day appointments

Accepting new patients
Office Hours
Monday: 8:30 am – 6:30 pm
Tuesday, Thursday, Friday: 7:30 am – 5:00 pm
Wednesday: 8:00 am – 7:00 pm
Saturday: Closed
Book an appointment with one of our dermatology providers
Services Offered at Schweiger Dermatology Group – Grassy Sprain
Grassy Sprain office patient reviews
Directions for
Schweiger Dermatology Group – Grassy SprainOffice
location_on 35 E Grassy Sprain Rd., Suite #507
Yonkers, NY 10710
Schweiger Dermatology Group provides medical and cosmetic dermatology services to patients of all ages at our Grassy Sprain location.
Schweiger Dermatology Group – Grassy Sprain is located at 35 E Grassy Sprain Road off of Tuckahoe Road in Yonkers, New York.
Where to Park

Parking is available in our building's parking lot.

Landmarks

Schweiger Dermatology Group – Grassy Sprain is just off of the shopping corridor on Tuckahoe Road. We are east of the ShopRite of Tuckahoe and the Yonkers Skatepark. Sherwood House Museum, Staples, Cafe Billiards Club, Hampton Inn, Alcove Wine & Liquor, Roosevelt High School, Sprain Brook, Outback Steakhouse, Central Avenue Nissan, and H Mart Yonkers are all within less than a quarter mile away from our office.

Directions

Our office is easily accessible from the Saw Mill River Parkway, the Sprain Brook Parkway, Central Park Ave, the Bronx River Parkway, and the Cross Country Parkway. The MTA Metro North Tuckahoe Station on the Harlem Line is a 7 minute drive down Tuckahoe Road to our office. The MTA bus lines 0008 and 0078 stop a block away from our location.

Areas Served

Schweiger Dermatology Group – Grassy Sprain serves the Northern Yonkers area and Westchester areas of Colonial Heights, Centuck, Cedar Knolls, Brwn Mawr Park, Legoland Westchester, Whitney Young, Northwest Yonkers, Crestwood, Tuckahoe, Bronxville, Dunwoodie, and Homefield.
Frequently Asked Questions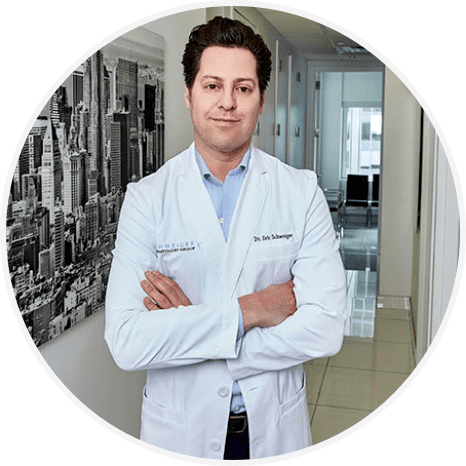 About Schweiger Dermatology Group
Schweiger Dermatology Group was founded to help make excellent dermatology care accessible throughout the Northeast. In 2010, Dr. Eric Schweiger started the practice with a single location in Midtown Manhattan. When he saw the need for high-quality dermatology care that did not require weeks or months of waiting to see a qualified provider, his vision of a multi-location practice was born.

Patient Resources