Schweiger Dermatology Group – Coatesville
213 Reeceville Road, Suite 35
Coatesville, PA 19320

*NOTE: June 6- October 5, 2023, E. Reeceville Rd and Cedar Knoll Rd will be closed and detoured 24/7 approaching the Route 82 (Manor Road) Intersection . During the closure, motorists will be directed to use Bondsville Road, U.S. 322 (Horseshoe Pike) and Hibernia Road.
Read more.

Convenient same day appointments

Accepting new patients
Office Hours
Monday, Thursday: 7:00 am – 1:00 pm
Every other Tuesday: 7:00 am – 12:00 pm
Wednesday: 9:00 am – 3:00 pm
Friday – Sunday: Closed
Book an appointment with one of our dermatology providers
Services Offered at Schweiger Dermatology Group – Coatesville
Coatesville office patient reviews
Directions for
Schweiger Dermatology Group – CoatesvilleOffice
location_on 213 Reeceville Road, Suite 35
Coatesville, PA 19320
Schweiger Dermatology Group provides medical and cosmetic dermatology services to patients of all ages at our Coatesville location.
Schweiger Dermatology Group – Coatesville is located at 213 Reeceville Road within the Brandywine Hospital Complex. Our office is in Suite 35.
Where to Park

Parking is available in the parking lot in front of our building.

Landmarks

Schweiger Dermatology Group – Coatesville is Chester County. Our office is inside the Tower Health Brandywine Hospital and across the street from Reeceville Elementary School and North Brandywine Middle School, and the Brandywine YMCA. Our office is within half a mile from the Coatesville VA Medical Center, Ingleside Golf Club, Del Toyota, Happy Days Diner, Giant Supermarket, Apothecarium Dispensary Thorndale, Kia of Coatesville, Dairy Queen, and McDonald's.

Directions

From US-30 Business/Lincoln Highway, turn onto Airport Road for US-30 East. Take the Reeceville exit and turn right past the CVS and Wawa. Turn right into the Brandywine Hospital complex. Our office is Suite 35.

*NOTE: June 6- October 5, 2023, E. Reeceville Rd and Cedar Knoll Rd will be closed and detoured 24/7 approaching the Route 82 (Manor Road) Intersection . During the closure, motorists will be directed to use Bondsville Road, U.S. 322 (Horseshoe Pike) and Hibernia Road.
Read more.

Areas Served

Schweiger Dermatology Group – Coatesville serves Chester County, Pennsylvania and the surrounding communities of Caln, Thorndale, Downington, Lyndell, Brandamore, Wagontown, Westwood, Modena, Pomeroy, Parkesburg, and Romansville.
Frequently Asked Questions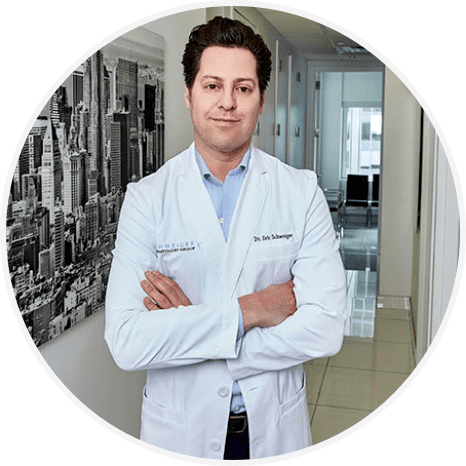 About Schweiger Dermatology Group
Schweiger Dermatology Group was founded to help make excellent dermatology care accessible throughout the Northeast. In 2010, Dr. Eric Schweiger started the practice with a single location in Midtown Manhattan. When he saw the need for high-quality dermatology care that did not require weeks or months of waiting to see a qualified provider, his vision of a multi-location practice was born.

Patient Resources