The Truth About Rosacea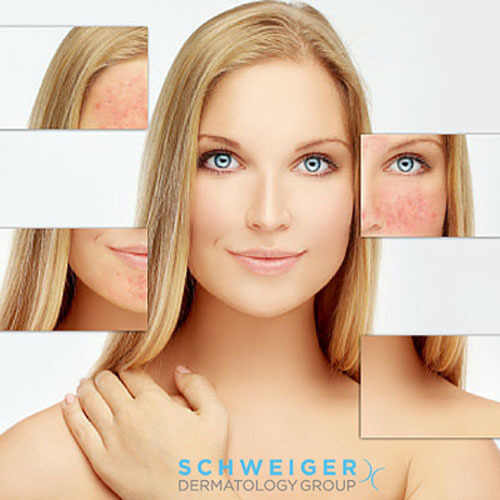 April is Rosacea Awareness Month, making this the perfect time to shed light on this common skin condition.
Rosacea is a chronic skin condition that plagues millions of Americans, in fact it's estimated that over 16 million people are afflicted with rosacea in the U.S. "Rosacea continues to be a problem for so many people because it is a chronic condition; there is no cure that we know of," says Dr. Jeremy Fenton of Schweiger Dermatology Group in New York City. "It is still debated as to what is the root cause of rosacea, and that is probably because it is multifactorial. It is probably a combination of external/environmental triggers such as the microbiome of the skin, UV radiation, food/alcohol, and climate along with internal reactions such as stress hormones and the immune system's inflammatory response." There are many myths about rosacea, including the assumption that it will just go away on its own. Here, some rosacea truths and myths.
It's ok to skip the SPF in the springtime
False: It's imperative to wear SPF 30 at all times on exposed skin–even in the winter and spring and especially if you're prone to rosacea. "I recommend wearing a zinc oxide based sunscreen of SPF 30+ and zinc concentration of at least 5%. UV exposure can not only cause intermittent flares of rosacea, but it can cause chronic damage that leads to persistently worse symptoms such as redness and dilated vessels," says Dr. Fenton. Watch out when the weather gets warmer, too. "Warmer temperatures themselves can also cause rosacea to flare, especially for those who suffer from flushing redness," says Dr. Fenton. Alcohol is another trigger; so be careful when you are out in the hot sun having drinks, that is a combination of triggers that can certainly flare rosacea.
Rosacea can't be treated at home
False: "One of the newest treatments for rosacea is Rhofade, which is a topical prescription medication that constricts the blood vessels and can help reduce redness and flushing. It has a lot less risk of side effects than some previous medications that were known to sometimes trigger a rebound flare," says Dr. Fenton.
Rosacea is due to skin being dirty or unclean
False: "There is believed to be an association between rosacea and the normal mites that live on the skin and other components of the microbiome; however, excessive cleaning of the skin will not resolve rosacea. In fact, cleaning the skin too much can lead to dry skin which causes rosacea to flare. It's best to use a balanced, mild cleanser," explains Dr. Fenton.
Rosacea can look like acne
Truth: "One of the biggest mistakes I see people with rosacea make, is related to the fact that it looks like acne," says Dr. Jeremy Fenton. "They try to treat it with acne medications. Unfortunately, acne medications tend to be drying and irritating." This type of treatment can often make rosacea flare even worse. That's why it is important to get a proper diagnosis from a dermatologist prior to treatment.
For more information on how to treat rosacea and what might be worsening the condition, read about how IPL can help. If you think you're suffering from rosacea, make an appointment with one of our dermatology providers to devise a treatment plan. Call 844-DERM-DOC to schedule an appointment.