Schweiger Dermatology Group – Middletown
1000 Route 35, Suite 201
Middletown, NJ 07748

Convenient same day appointments

Accepting new patients
Office Hours
Monday, Tuesday: 8:00 am – 6:30 pm
Wednesday: 7:00 am – 6:30 pm
Thursday: 8:00 am – 7:00 pm
Friday: 7:00 am – 5:00 pm
Alternating Fridays: 9:30 am – 3:30 pm
4th Saturday of month: 8:00 am- 1:00 am
Book an appointment with one of our dermatology providers
Services Offered at Schweiger Dermatology Group – Middletown
Middletown office patient reviews
Directions for
Schweiger Dermatology Group – MiddletownOffice
location_on 1000 Route 35, Suite 201
Middletown, NJ 07748
Schweiger Dermatology Group provides medical and cosmetic dermatology services to patients of all ages at our Middletown location.
Schweiger Dermatology Group – Middletown is located at 1000 Route 35 in Middletown, NJ next to Penelope Lane. Our office is in Suite 200 in the 3-story glass office building.
Where to Park

Parking is available in front of our office. Turn onto Hague Drive and into our parking lot.

Landmarks

Schweiger Dermatology Group – Middletown is easilly accessible from NJ Route 35 in beautiful Middletown Township, New Jersey. We are a 15 minute drive away from Sandy Hook beaches and the Jersey Shore. MJ's Restaurant is across the street and our central location on Route 35 places us within a quarter mile of TJ Maxx, Dunkin' Donuts, Burger King, Olde Village Pub, The Pet Shoppe, Wells Fargo, Tractor Supply Co, Sonic Drive-in, Middletown Ice Arena, Kings Commons Shopping Center, Middletown Village Elementary, Middletown Marketplace, Smoothie King, Applebee's, CVS, Bank of America, Agatha Guthrie Weichert Realtors, Town Brook Commons, and Stop & Shop.

Directions

Our office is located along NJ Route 35 and is easily accessible by the Garden State Parkway (NJ-444) and NJ-36. We are a 4 minute drive (and 20 minute walk) from the Middletown NJ Transit Station on the North Jersey Coast Line.

Areas Served

Schweiger Dermatology Group – Middletown serves Northern Monmouth County, the upper Jersey Shore communities including New Monmouth, Port Monmouth, Belford, Leonardo, East Keansburg, Union Beach, Hazlet, Centerville, Atlantic Highlands, Locust, Oak Hill, Fair View, Red Bank, Shrewsbury, Little Silver, Fair Haven, and Rumson.
Frequently Asked Questions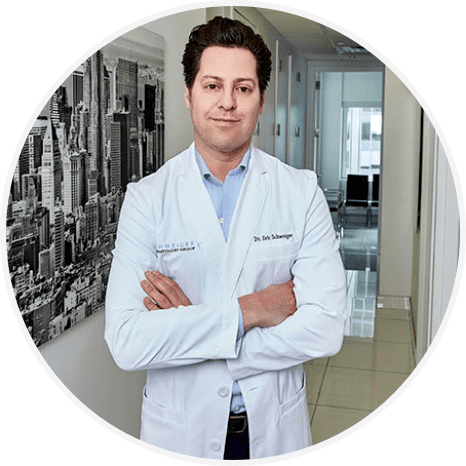 About Schweiger Dermatology Group
Schweiger Dermatology Group was founded to help make excellent dermatology care accessible throughout the Northeast. In 2010, Dr. Eric Schweiger started the practice with a single location in Midtown Manhattan. When he saw the need for high-quality dermatology care that did not require weeks or months of waiting to see a qualified provider, his vision of a multi-location practice was born.

Patient Resources