Schweiger Dermatology Group – Toms River
368 Lakehurst Road , Suite 201
Toms River, NJ 08755

Convenient same day appointments

Accepting new patients
Office Hours
Monday: 7:00 am – 5:00 pm
Tuesday: 7:00 am – 7:00 pm
Wednesday: 7:00 am – 5:30 pm
Thursday: 7:00 am – 6:30 pm
Friday: 7:00 am – 5:00 pm
Saturday: 8:00 am – 1:00 pm
Sunday: Closed
Services Offered at Schweiger Dermatology Group – Toms River
Toms River office patient reviews
Directions for
Schweiger Dermatology Group – Toms RiverOffice
location_on 368 Lakehurst Road , Suite 201
Toms River, NJ 08755
Schweiger Dermatology Group provides medical and cosmetic dermatology services to patients of all ages at our Toms River location.
Schweiger Dermatology Group – Toms River is located at 368 Lakehurst Road in a large, three-level office building just off the Garden State Parkway (NJ Route 9). Our office is in Suite 201.
Where to Park

Our office building has ample free parking available which surrounds our building. Enter off of Lakehurst Road.

Landmarks

Schweiger Dermatology Group – Toms River is in eastern Ocean County at the mouth of the Toms River inlet. The office is near the interchange of the Garden State Parkway and NJ Highway 37 towards Seaside Heights. We are down the street from the Toms River Community Medical Center. We are half a mile away from Staples, Chase Bank, McDonald's, The Toms River Center shopping center, Kohl's, and Five Below.

Directions

Our office on Lakehurst Road is easily accessible at Exit 81 from the Garden State Parkway (NJ Route 9). Our building is less than half a mile away where Lakehurst Road meets NJ Route 37.

Areas Served

Schweiger Dermatology Grop – Toms River serves eastern Ocean County and the communities of Toms River, Beachwood, Pine Beach, Island Heights, Manitou Park, Silver Ridge, Holiday Heights, Bayville, Berkeley Township, Lakehurst, Manchester Township, Anchorage, and Silverton.
Frequently Asked Questions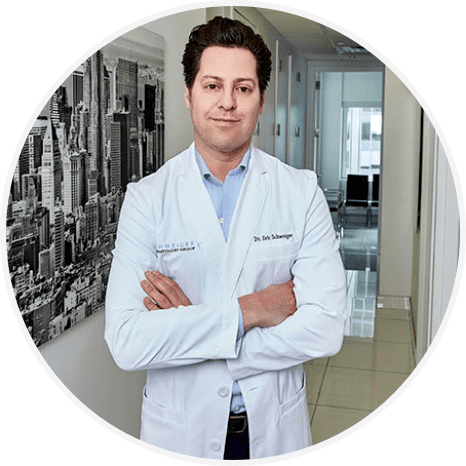 About Schweiger Dermatology Group
Schweiger Dermatology Group was founded to help make excellent dermatology care accessible throughout the Northeast. In 2010, Dr. Eric Schweiger started the practice with a single location in Midtown Manhattan. When he saw the need for high-quality dermatology care that did not require weeks or months of waiting to see a qualified provider, his vision of a multi-location practice was born.

Patient Resources