Schweiger Dermatology Group – Pine Street, Philadelphia
822 Pine Street, Suite 2A
Philadelphia, PA 19107

Convenient same day appointments

Accepting new patients
Office Hours
Monday: 7:00 am – 6:30 pm
Tuesday, Wednesday: 7:00 am – 7:00 pm
Thursday: 8:00 am – 3:30 pm
Friday: 7:00 am – 4:00 pm
Saturdays (2 Saturdays per month): 8:00 am – 2:00 pm
Sunday: Closed
Book an appointment with one of our dermatology providers
Services Offered at Schweiger Dermatology Group – Pine Street, Philadelphia
Pine Street office patient reviews
Directions for
Schweiger Dermatology Group – Pine Street, PhiladelphiaOffice
location_on 822 Pine Street, Suite 2A
Philadelphia, PA 19107
Schweiger Dermatology Group provides medical and cosmetic dermatology services to patients of all ages at our Pine Street location in Philadelphia, Pennsylvania.
Schweiger Dermatology Group – Pine Street is in a classic 1880 brownstone building across the street from the Pennsylvania Hospital. We are located in Suite 2A.
Where to Park

Parking is available on the street near the office. There is a paid parking garage nearby on Delancey St. and S. 7th St. at 711 Delancey and nearby South Street has additional parking garage options at S. 11th Street.

Landmarks

Our office is located in the historic Washington Square West neighborhood of Philadelphia just south of Center City. The historic Pennsylvania Hospital is directly across the street from our location. We are within 4 blocks of Whole Foods Market, Good Karma Café, Starbucks, Bank of America, Little Italy Pizza, Seger Park, And Washingon Square Park. We are a 10 minute walk from Independence Hall.

Directions

Schweiger Dermatology Group – Pine Street is easily accessible by the SEPTA mass transit system. The 9/10th & Locust Street Station on the PATCO line 2 blocks north and the Lombart-South station on the BSL line is six blocks away to the west.

Areas Served

Schweiger Dermatology Group – Pine Street serves the Philadelphia, Pennsylvania neighborhoods of Center City, Society Hill, Head House Square, Hawthorne, Queen Village, Little Saigon, Chinatown, Passyunk Square, Dickinson Narrows, Wharton, Old City, and Penn's Landing. The PATCO line easily connects the office to the City Hall, Broadway, Ferry Avenue, Collingswood, Westmont, Woodcrest, Ashland, and Lindenwold stations in New Jersey.
Frequently Asked Questions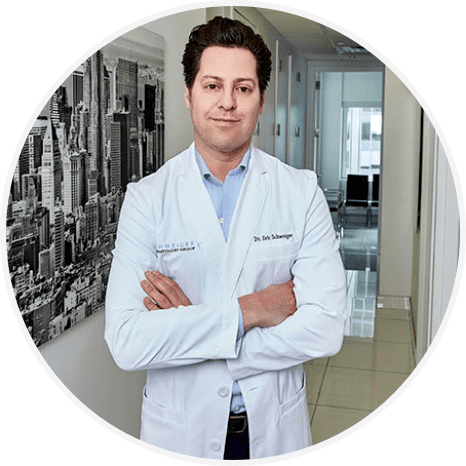 About Schweiger Dermatology Group
Schweiger Dermatology Group was founded to help make excellent dermatology care accessible throughout the Northeast. In 2010, Dr. Eric Schweiger started the practice with a single location in Midtown Manhattan. When he saw the need for high-quality dermatology care that did not require weeks or months of waiting to see a qualified provider, his vision of a multi-location practice was born.

Patient Resources