Schweiger Dermatology Group – New Hyde Park
3003 New Hyde Park Road, Suite 204
New Hyde Park, NY 11042

Convenient same day appointments

Accepting new patients
Office Hours
Monday: 8:00 am – 7:30 pm
Tuesday: 7:30 am – 6:00 pm
Wednesday: 7:30 am – 6:00 pm
Thursday: 8:00 am – 7:30 pm
Friday: 9:00 am – 5:00 pm
Saturday (1st): 8:00 am – 1:00 pm
Saturday (2nd): 7:30 am – 1:30 pm
Saturday (3rd): 9:00 am – 2:00 pm
Saturday (4th): 7:00 am – 1:00 pm
Services Offered at Schweiger Dermatology Group – New Hyde Park
New Hyde Park office patient reviews
Directions for
Schweiger Dermatology Group – New Hyde ParkOffice
location_on 3003 New Hyde Park Road, Suite 204
New Hyde Park, NY 11042
Schweiger Dermatology Group provides medical and cosmetic dermatology services to patients of all ages at our New Hyde Park location.
Schweiger Dermatology Group – New Hyde Park is located at 3003 New Hyde Park Road in the Lake Success Quadrangle complex next to St. Mary's Hospital for Children. Our complex is beind pine trees off New Hyde Park and our building is a large 3-story brown office building with "3003" near the roof. We are in Suite 204.
Where to Park

Parking is available in the parking lot in front of our building.

Landmarks

Schweiger Dermatology Group – New Hyde Park is in Western Nassau County in Long Island, New York. Our office is within half a mile from Cohen Children's Medical Center, TJ Maxx, ShopRite, Chipotle, Shake Shack, Petsmart, Starbucks, HSBC Bank, Lake Success Shopping Center, Clinton G. Martin Park, Bank of America, Notre Dame Church, Deepdale Golf Club, LA Fitness, William A. Shine High School, Dunkin' Donuts, Barnes & Noble, Panera Bread, Stop & Shop, and Orangetheory Fitness.

Directions

From the Long Island Expressway (LIE) (I-495 E), take exit 34 towards New Hyde Park Road. Cross the Northern State Parkway and our office is two blocks away on the right side of the street. Our building is surrounded by a large parking lot. We are also easily accessible from Hillside Avenue, Jericho Turnpike, and the Grand Central Turnpike.

Areas Served

Schweiger Dermatology Group – New Hyde Park serves Western Nassau County in Long Island and the surrounding communities of Lake Success, University Gardens, North Hills, Manhasset Hills, Herricks, Little Neck, Douglaston, Thomaston, Strathmore, and Floral Park.
Frequently Asked Questions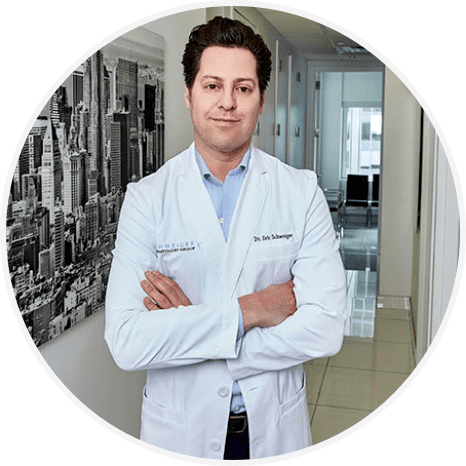 About Schweiger Dermatology Group
Schweiger Dermatology Group was founded to help make excellent dermatology care accessible throughout the Northeast. In 2010, Dr. Eric Schweiger started the practice with a single location in Midtown Manhattan. When he saw the need for high-quality dermatology care that did not require weeks or months of waiting to see a qualified provider, his vision of a multi-location practice was born.

Patient Resources