Schweiger Dermatology Group – North Wales
1140 Welsh Road, Suite 130
North Wales, PA 19454

Convenient same day appointments

Accepting new patients
Office Hours
Monday, Tuesday, Thursday: 8:00 am – 5:00 pm
Wednesday: 9:00 am – 6:30 pm
Friday: 8:00 am – 3:00 pm
Saturday and Sunday: Closed
Book an appointment with one of our dermatology providers
Services Offered at Schweiger Dermatology Group – North Wales
North Wales office patient reviews
Directions for
Schweiger Dermatology Group – North WalesOffice
location_on 1140 Welsh Road, Suite 130
North Wales, PA 19454
Schweiger Dermatology Group provides medical and cosmetic dermatology services to patients of all ages at our North Wales location.
Schweiger Dermatology Group – North Wales is located at 1140 Welsh Road in the Gywnedd Corporate Center off of US Route 202 Alt and across the street from the Montgomery Commons Shopping Mall and Assi Plaza. Our office is in a modern, 2-story building and we are in Suite 130.
Where to Park

Parking is available in the parking lot to the left of our building.

Landmarks

Schweiger Dermatology Group – North Wales is in central Montgomery County, Pennsylvania 30 miles from Center City, Philadelphia. Our office is within 1 mile of the American Star Diner, PNC Bank, George's Music, Kung Fu Tea, Family Beverage, Franconis Pizza, Sang Hi, Santander Bank, Rite Aid, Starbucks, Citizens Bank, Wawa, Bacco Italian, Macy's, Wegmans, Best Buy, HomeSense, The Pour House, Airport Square, Montgomery Mall, and Miller's Ale House.

Directions

From PA-309, turn right onto N. Wales Road and continue for 1.5 miles. At Key Bank, turn left onto US Route 202 Alt (E. Main St). Our office complex is the next right. Once in the complex, our building will be on your left. On the SEPTA commuter train system, our office is 1.5 miles away from the Lansdale Station on the Landsale/Doylestown line.

Areas Served

Schweier Dermatology Group – North Wales serves the surrounding communities of Lansdale, Montgomeryville, West Point, Prospectville, Gwynedd, Kulpsville, Spring House, and Hatfield.
Frequently Asked Questions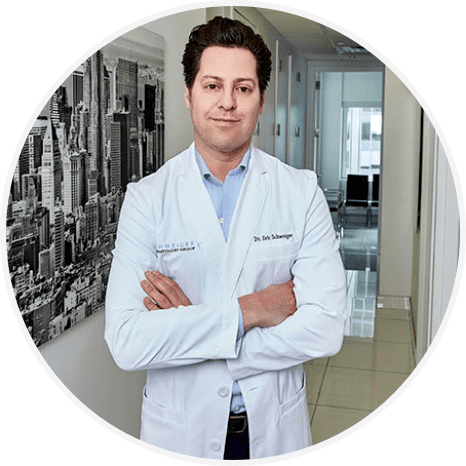 About Schweiger Dermatology Group
Schweiger Dermatology Group was founded to help make excellent dermatology care accessible throughout the Northeast. In 2010, Dr. Eric Schweiger started the practice with a single location in Midtown Manhattan. When he saw the need for high-quality dermatology care that did not require weeks or months of waiting to see a qualified provider, his vision of a multi-location practice was born.

Patient Resources